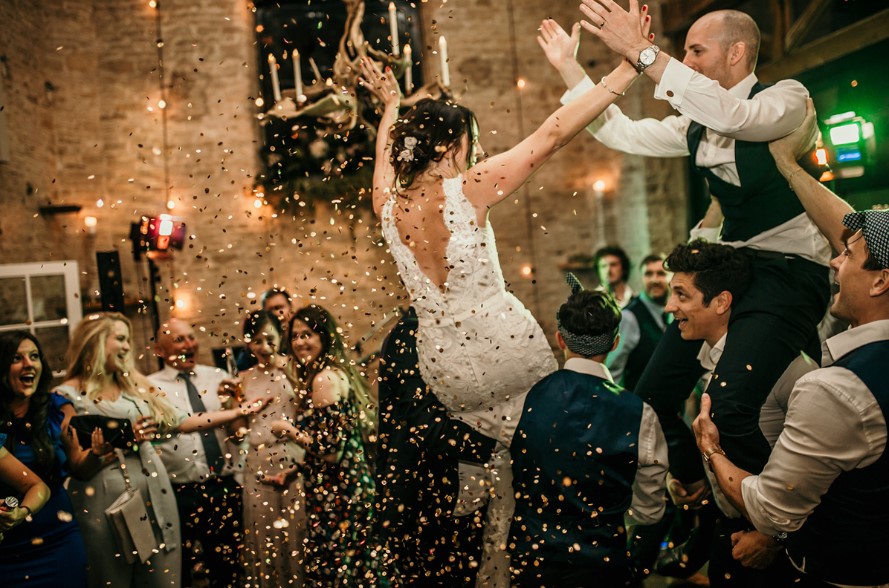 Confetti isn't just for New Year's anymore. It's a go-to party supply for nearly any occasion, and you can use it in so many ways to spruce up your next get-together. 
From throwing it during a photo booth session to sprinkling it on tables or even having guests throw it at the end of the night, there are so many fun ways to incorporate confetti into your next event. Read on to learn five creative uses for confetti at your next party!
Add colour to your photos
Confetti is a great way to add a splash of colour to your photos. Whether you're taking pictures at a party or want to remember a special occasion, including confetti in the frame will really make it pop. Saving confetti from a special occasion and attaching it with double-sided tape or a sticker to photos of the night can really add a touch of personality to your memories.
To maximize the effect of your confetti photos, make sure to take your pictures in low light (to make the confetti stand out more) and experiment with different camera settings (like shutter speed and aperture) if you want to explore different ways to shoot with confetti.
Confetti cannons
Confetti cannons are a must-have party supply if you're throwing a large event. They're easy to use: just turn them on, shake them to release a bit of confetti, then aim and fire. You can get different styles of confetti cannons to best fit your party. 
You can even find confetti cannons with other decorations like streamers or even mini paper airplanes. If your event happens to be in the spring or summer, you can even find confetti cannons that shoot out flower petals. Confetti cannons are a great way to spruce up your event, especially if you're throwing a larger party where you don't want to have to manually throw confetti. You can also use a confetti popper to throw confetti in the air. Confetti poppers are great because they're reusable and make a really loud popping noise that will get everyone in the mood!
Personalise your Confetti
There are so many ways to personalise your confetti. You can pick up pre-made confetti decorations at any party store, or even create your own using materials you may already have around your house. You can also pick up seasonal confetti decorations to match your party theme.
If you want to go the extra mile, however, you could invest in some personalised confetti with your own photos to really make the occasion special. Printed Little Things offers personalised confetti hearts and circles to add your own touch to the event, or you could take it up a notch with personalised face confetti – shaped to a face of your choosing! 
Shower your guests with confetti
The best way to use up your confetti for a lasting impact is to have the guests throw it at the end of the night. This is a great way to end the night on a fun note, and is a really memorable way to celebrate. 
You can also add confetti to your table settings by placing it in vases or paper bags to make it look more festive, which guests can then throw at the end of the evening. You can even add confetti to your invitations by making it a special feature, and instruct your guests to bring this with to use as confetti. Your guests will have a blast making a mess with confetti at your party, which is always a good time.
Don't forget the clean-up crew
No matter how much fun you and your guests have with confetti, there's always going to be some clean-up required. To save time and make clean-up easier, try using a vacuum cleaner with a dust bag. If you're hosting a party, assign your clean-up crew to vacuum up as much confetti as possible during and after the event. Once your guests have gone home, you can use a broom to sweep up the remaining confetti. 
Wearing gloves while you clean up is a good idea, especially if you've used a type of confetti that's sticky or hard to get off your hands. You can also use an adhesive remover to remove it from your floorboards, upholstery and other surfaces.
Related Posts